FREE RETURN

:

If you are from Russia, Israel,South Korea,US,Canada,Australia,UK,France, Spain,Germany, Brazil,Saudi Arabia,UAE, Poland,Netherlands,Italy.You can enjoy the benefit as local return within 15 days from receiving the item,without any reason,it is

FREE RETURN

! ! !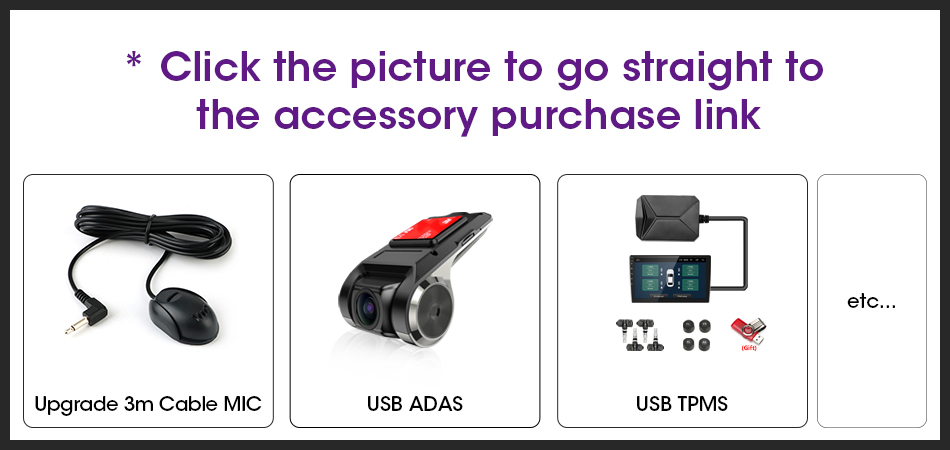 New Arrival T10





Chip: Unisoc ums512-8 core,2*A75+6*A55,1.8MHz,12NM ARM

Network: 4G+WiFi

Android version: Android 10 API=29

RAM&ROM: 6GB+128GB

Screen resolution: QLED 1280*720

Screen: IPS

Broadcasting: RDS FM+AM

Sound processor: ROHM32107

Power amplifier chip: TDA7851, support DSP, built-in 48EQ

Bluetooth version: 5.0

Split screen, floating window: support

Carplay: Built-in wireless Carplay function



Debugging function (may be deleted or improved later, additional payment may be required):

360 panoramic image, support 1080P HD four-channel camera recording

Huawei HiCar

CarMate mobile app track view, remote photo

8 countries voice control

Same screen and different display: radio and monitor display different pictures
Support 5.0 GHz Band Wi-Fi hotspot, after inserting the SIM card into the radio, you can share the radio's high-speed 4G network to every passenger in the car(only for T10)





5.0 GHz Band Wi-Fi hotspot compared to 2.4 GHz Band Wi-Fi hotspot

1. Avoid the congested 2.4Ghz frequency band.

Because there are too many wireless devices using the 2.4GHz frequency band, although the 2.4GHz frequency band can accommodate about 11 channels, with the popularity of various IT equipment, such as PCs, mobile phones, tablets, etc., are used in this frequency band. When two devices are used at the same time, the data throughput drops severely.

2. Avoid the interference of 2.4Ghz frequency band.

Bluetooth and wireless mice also use the 2.4GHz frequency band, which can also interfere with other wireless devices on the same frequency.

3. More channels to meet more equipment access needs.





Additional Purchase Mirror Link Easy Connection APP Activation Use & Colorful Light Button(Only for T10)
Easy Connection Support to connect Apple phones and Android phones via WiFi or USB cable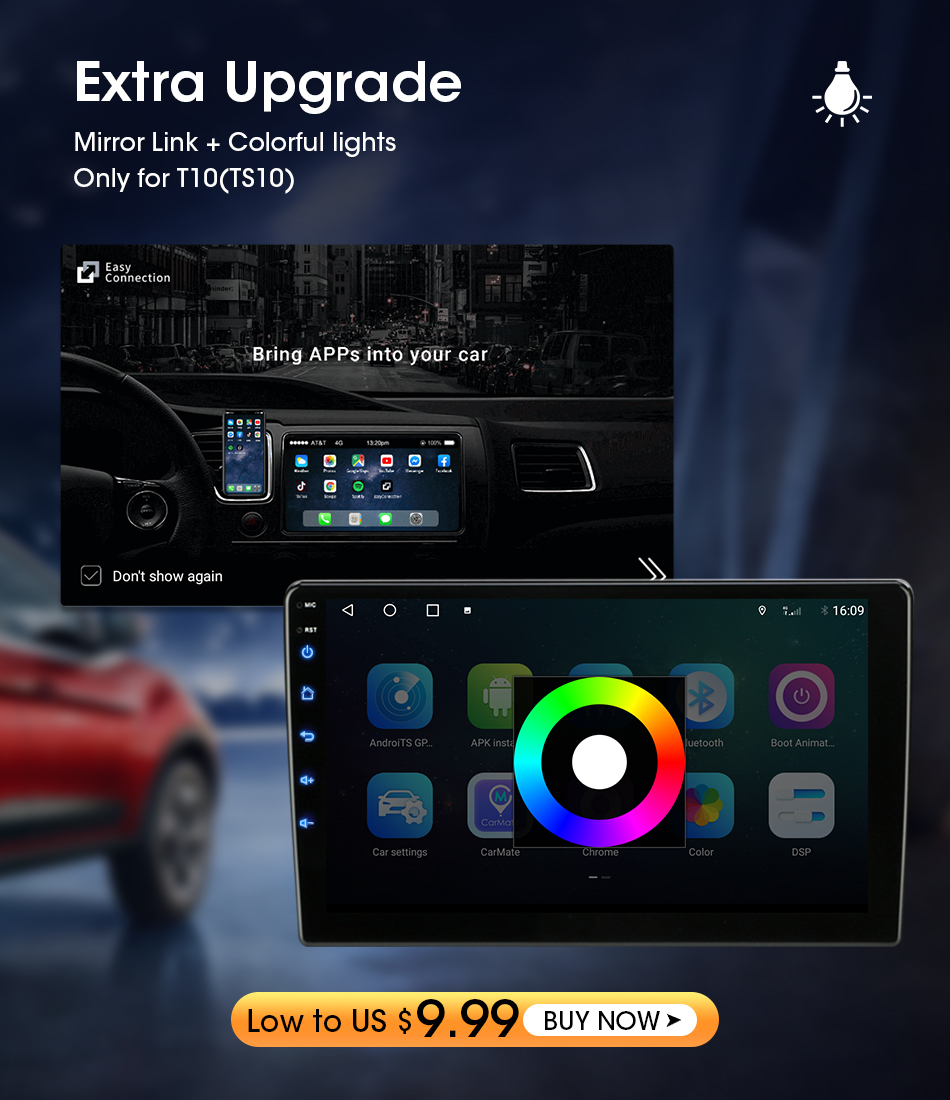 All accessories:

Android machine*1

Frame*1

Power cord*1

USB cable*2

Video input line*1

GPS module*1

Installation gadgets and installation instruction card*1

RCA cable*1 (T10 and T9 include SIM card slot)(Support connecting subwoofer and external microphone)

4G antenna*1/2 (Only for T10 and T9)
Cooling fan*1

(optional)



HD camera (optional)

ADAS DVR

(optional)

USB TPMS

(optional)


3m Cable MIC

(optional)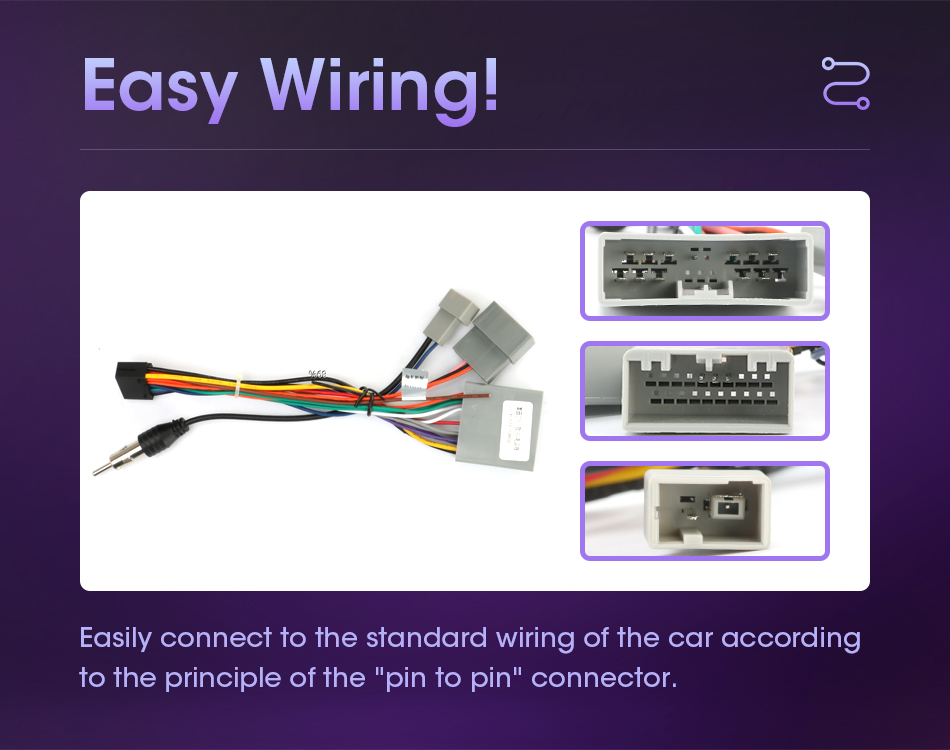 After purchase, you can ask us for download links of the latest maps of the 2020 version in 200+ countries around the world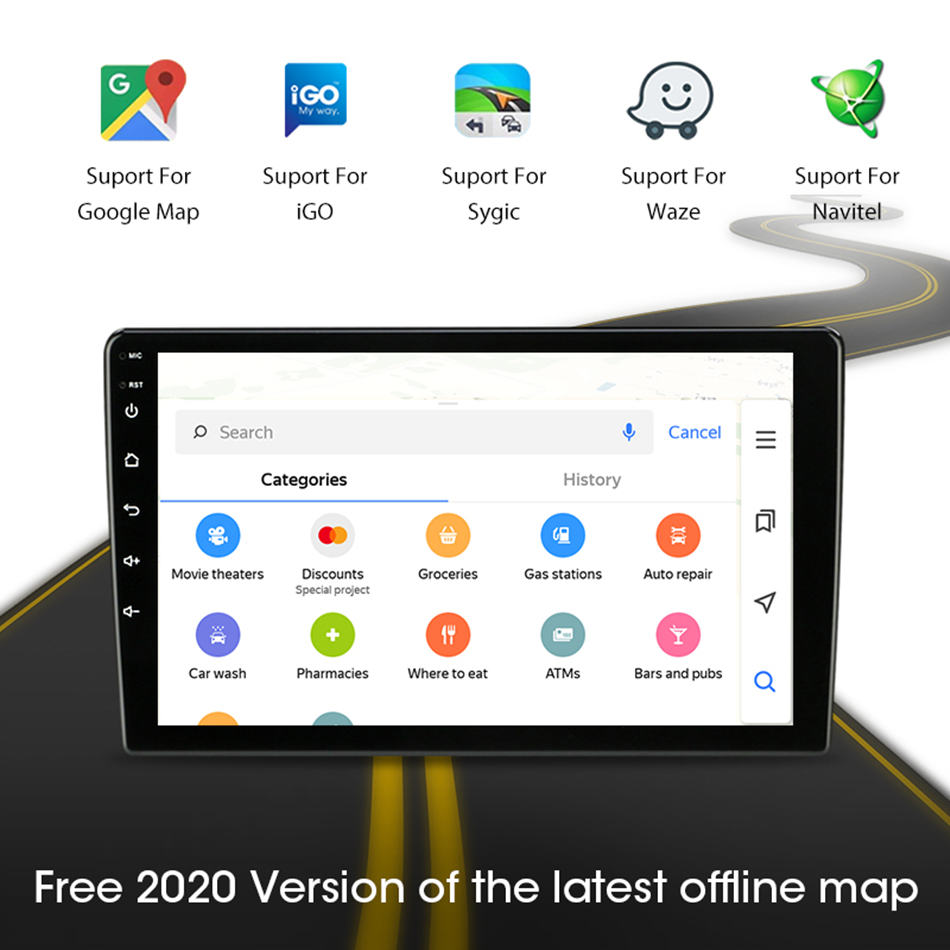 Industry debut, Cooling fan

Solve problems such as abnormal restart or freeze, abnormal function caused by long-term use or high temperature environment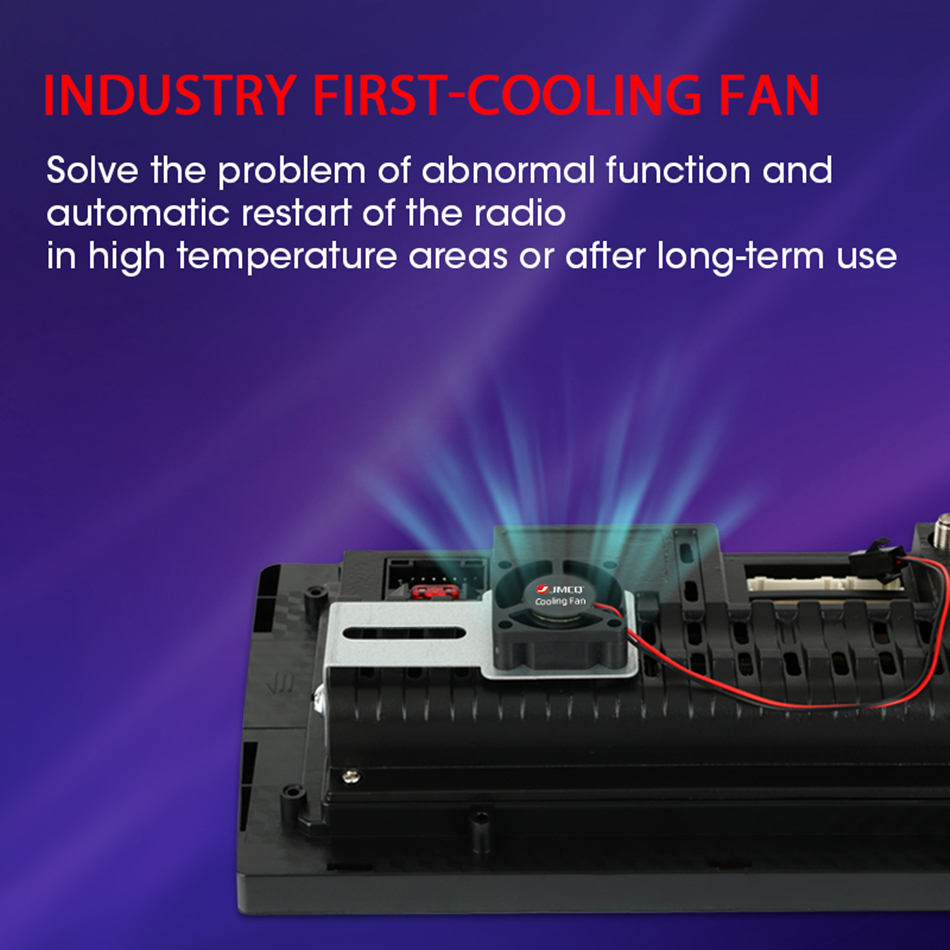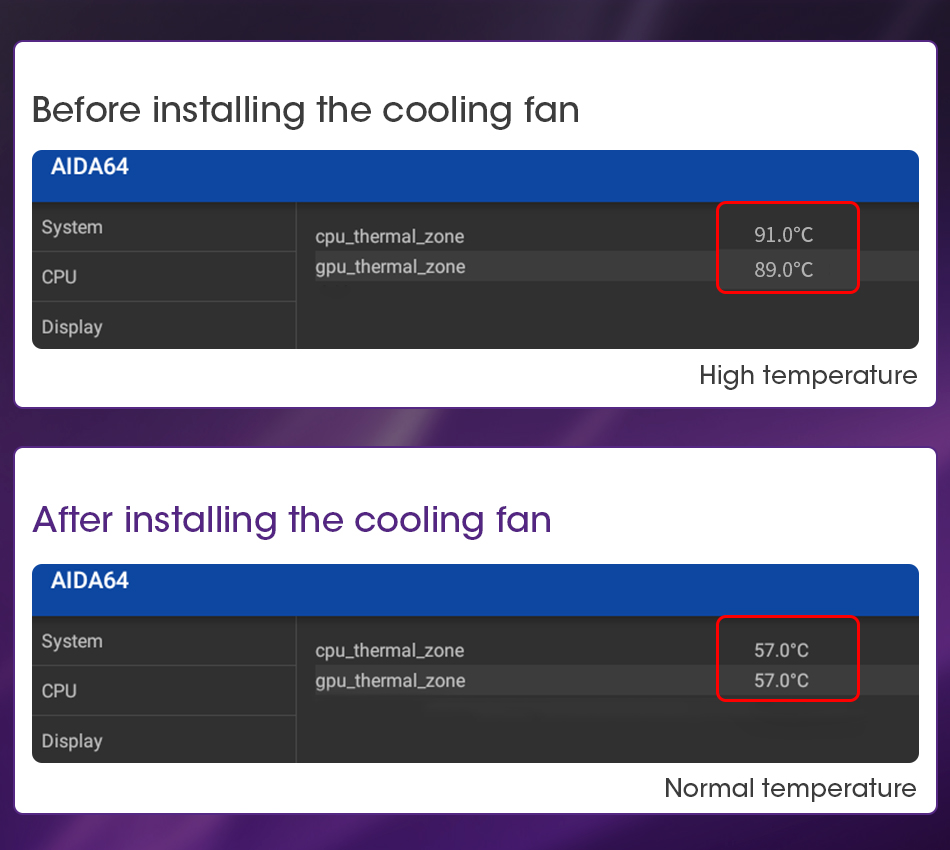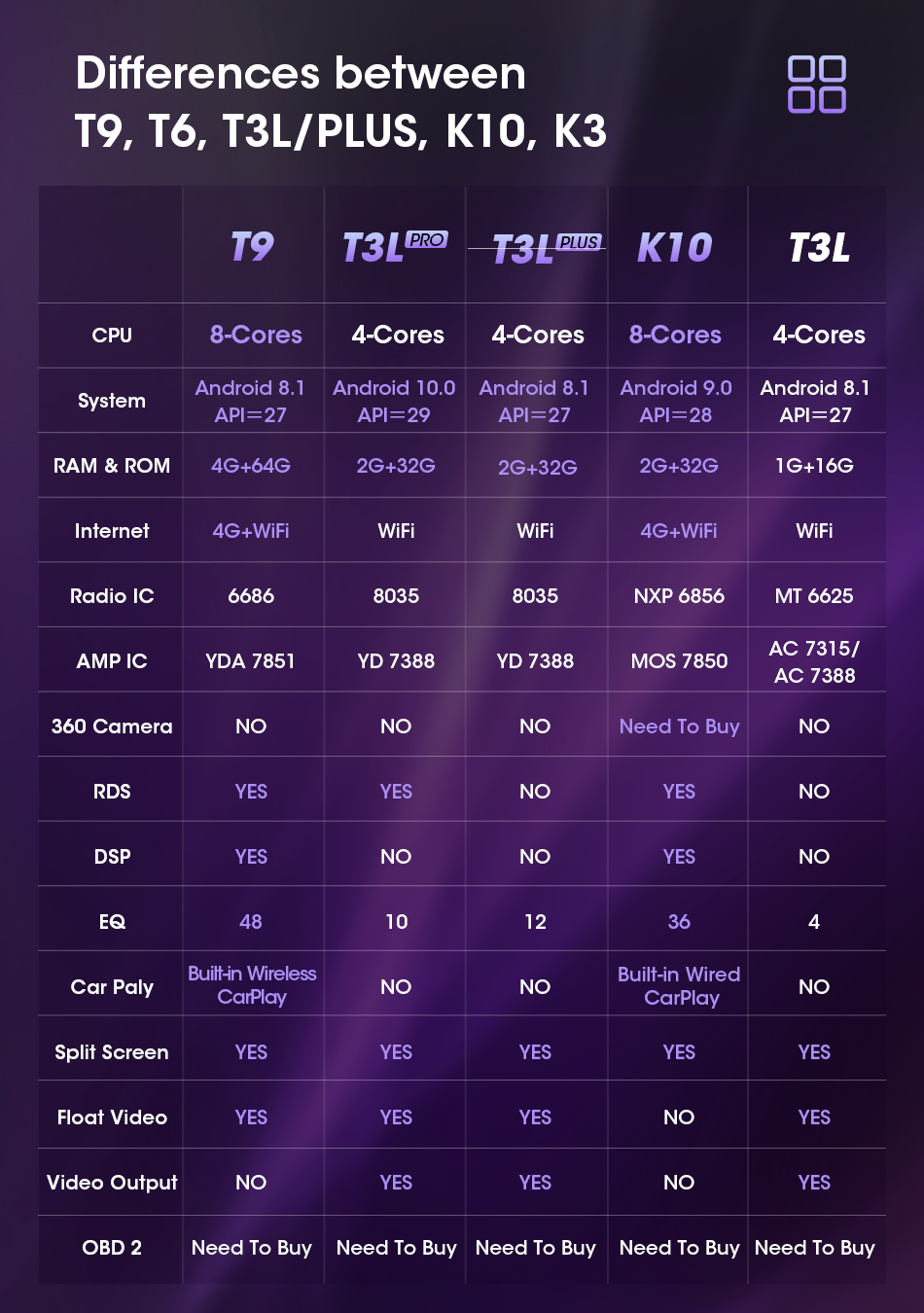 Real Android 9.0 system, support application split screen, make your use more handy, support more latest applications.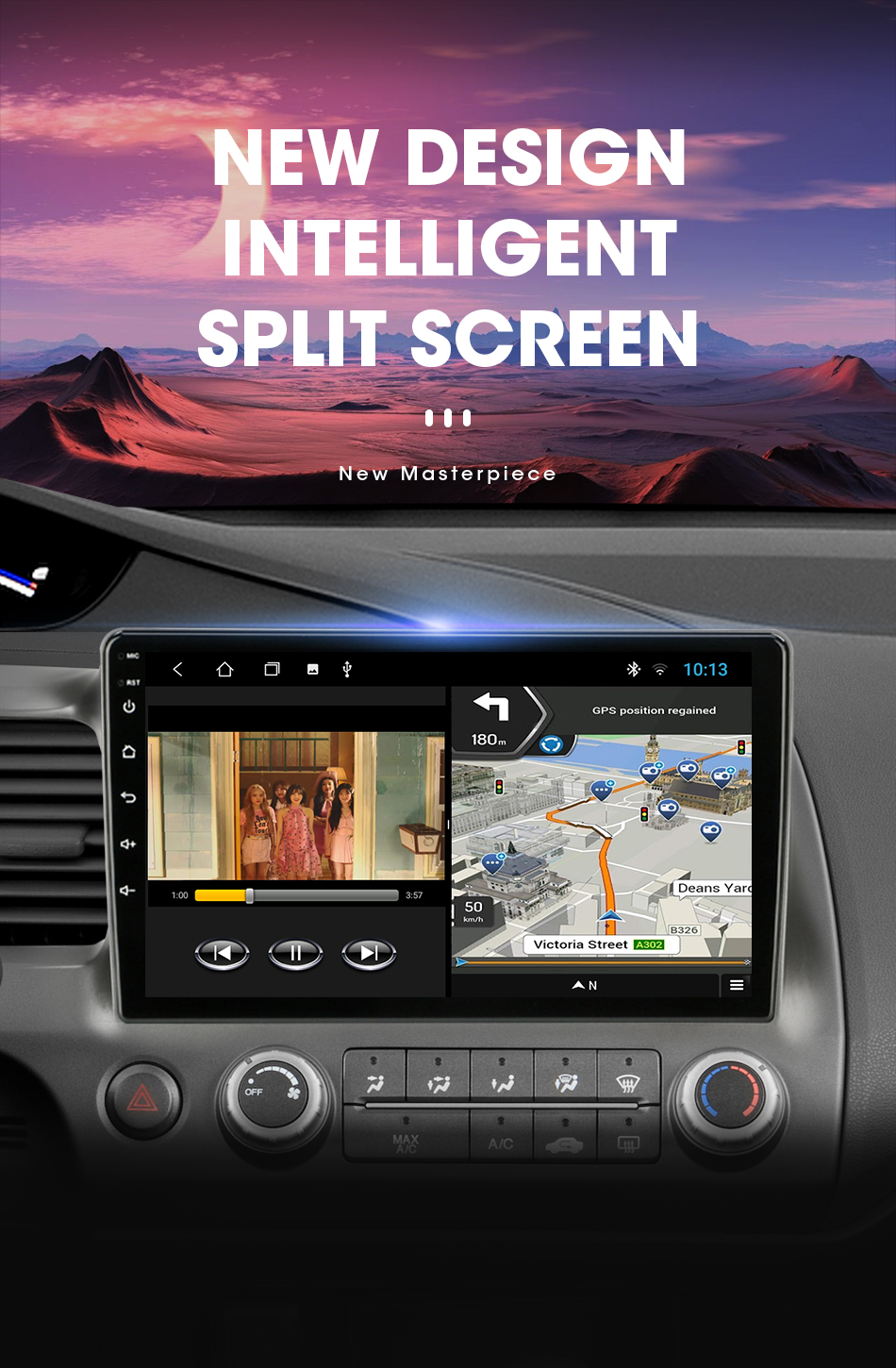 The latest technology, using advanced Android navigation solutions, supports more custom settings and opens more options to users.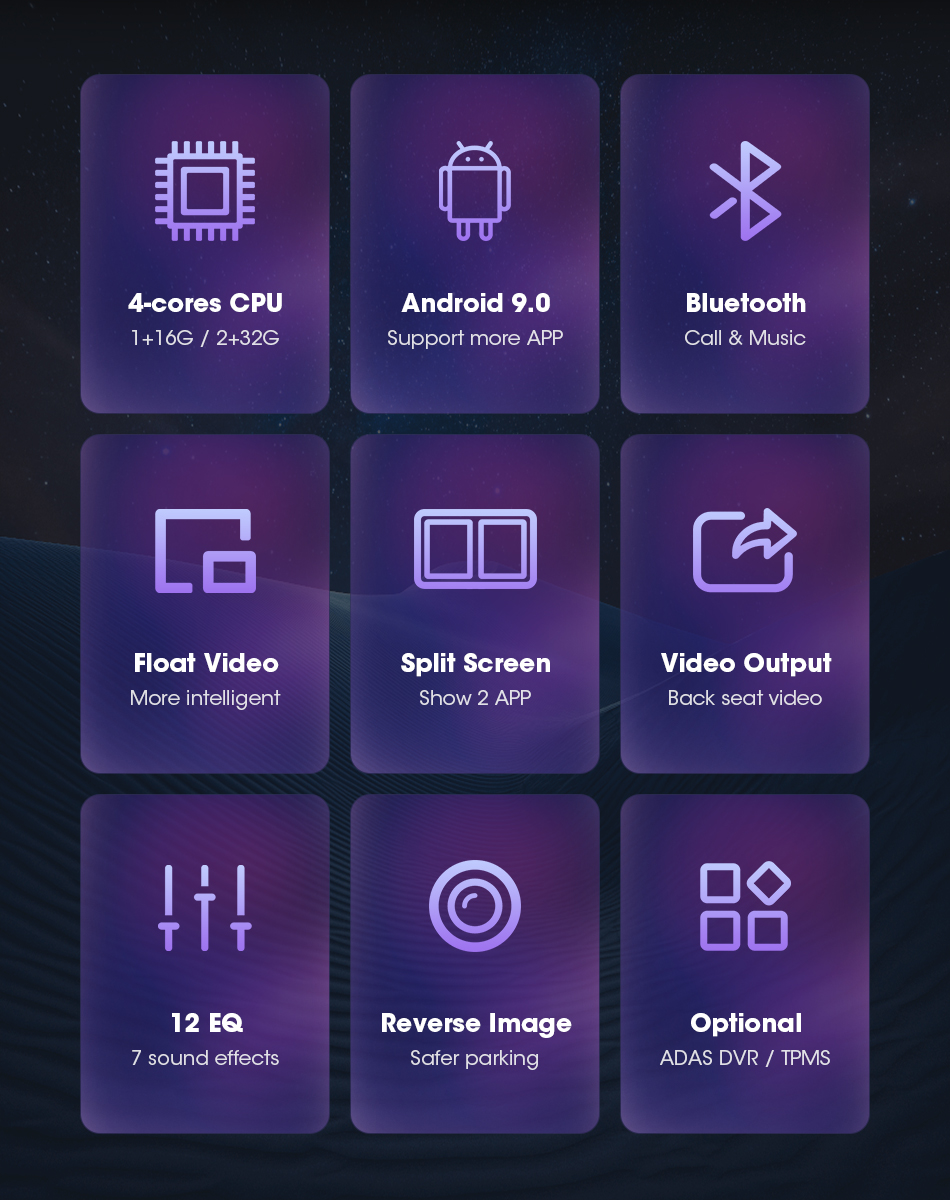 The main driver uses the map navigation on the left screen, and the co-pilot or the rear child (through video output) watches the favorite TV program on the right screen.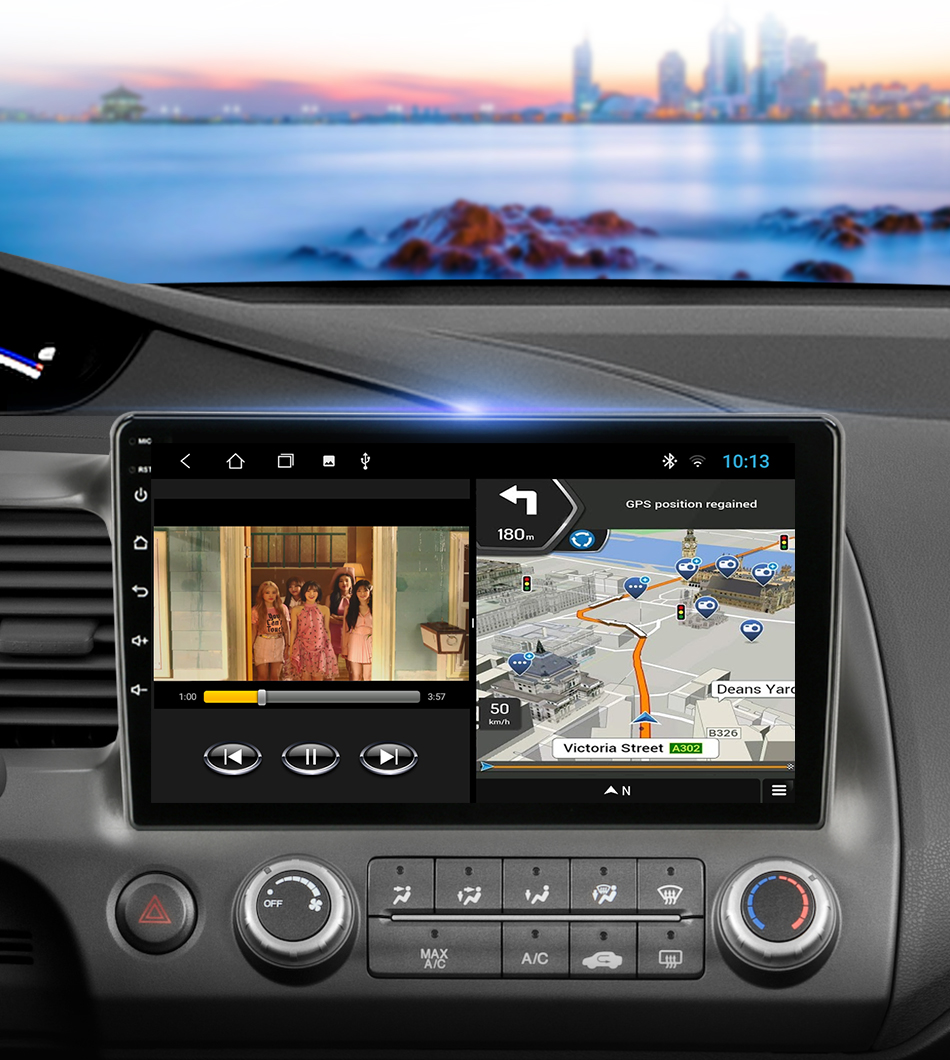 Support split screen display of any 2 applications, combining at will.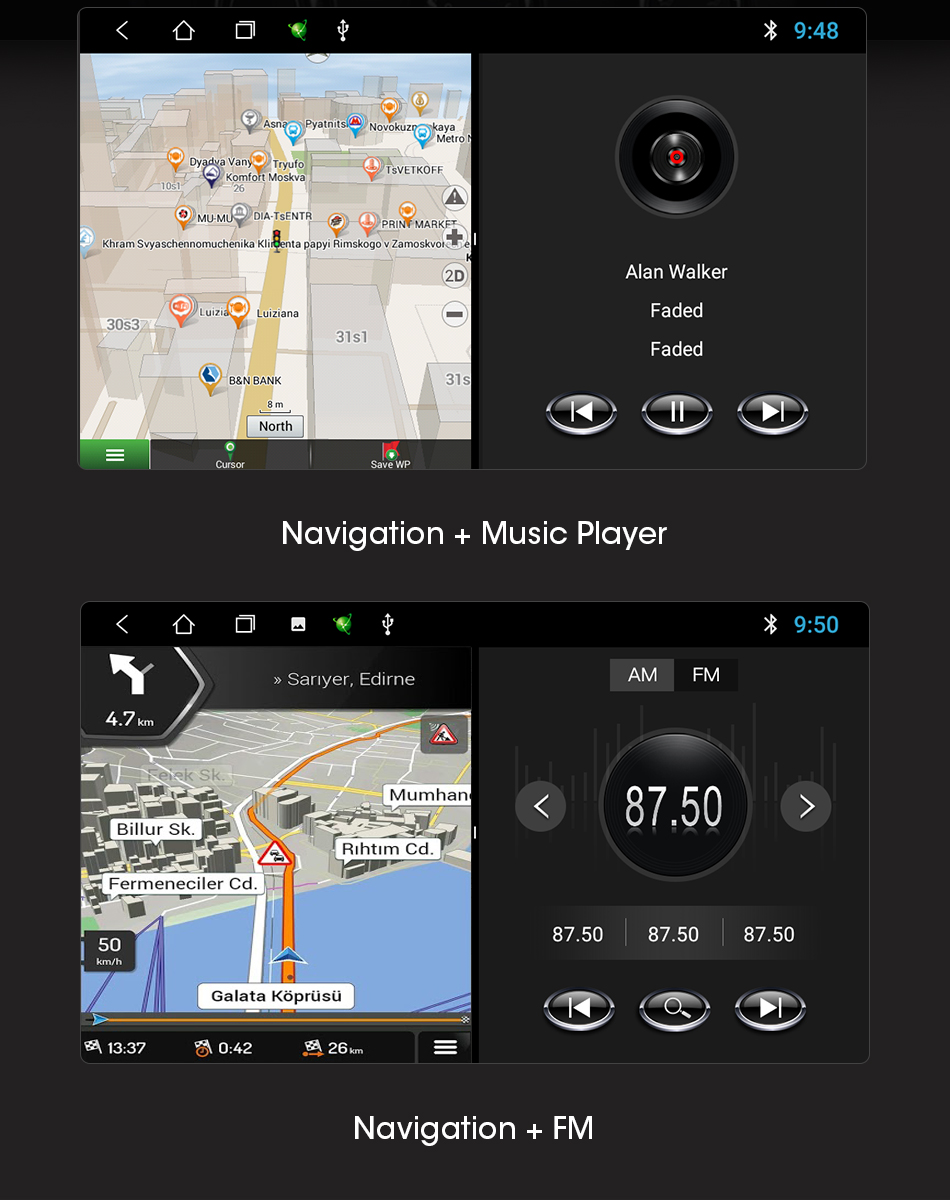 Support video and DVR application Of Floating Window, customize the display position, and make your driving experience full of cool colors.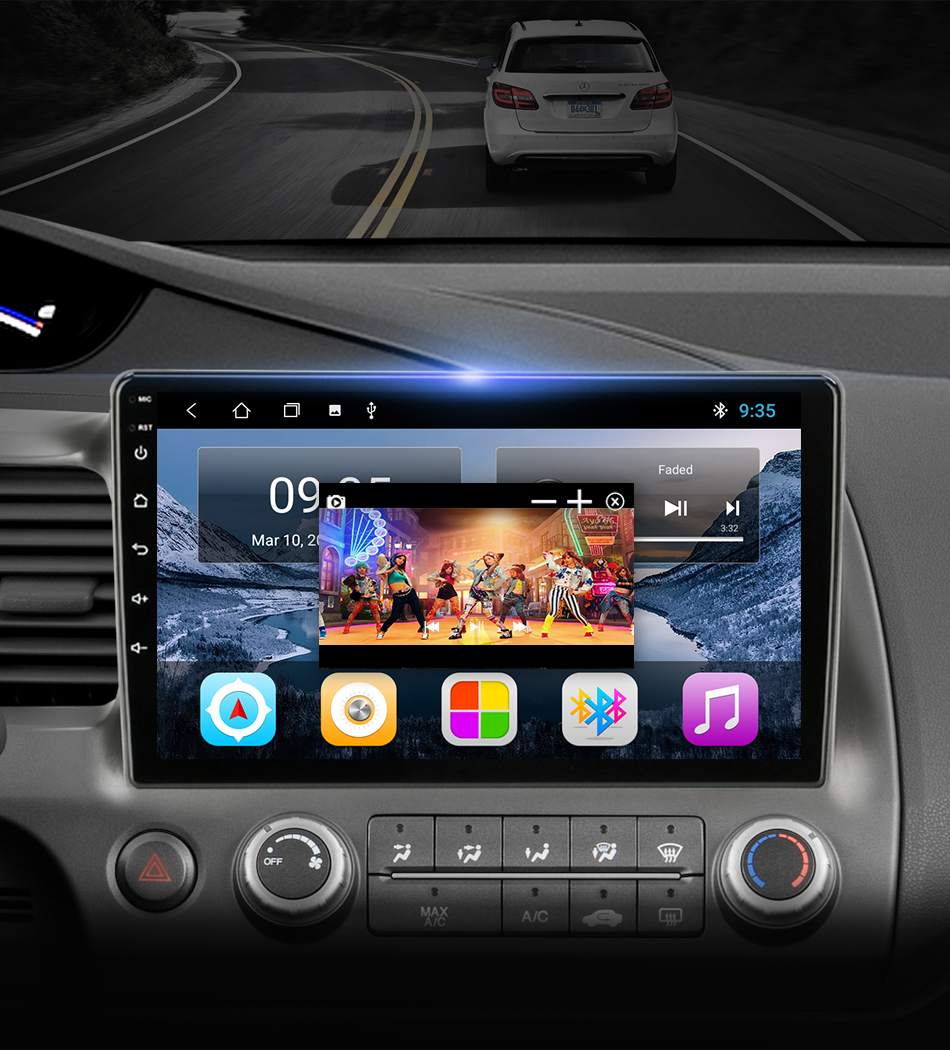 Support rear video output, the car can still meet the entertainment needs of children in the rear while taking into account driving.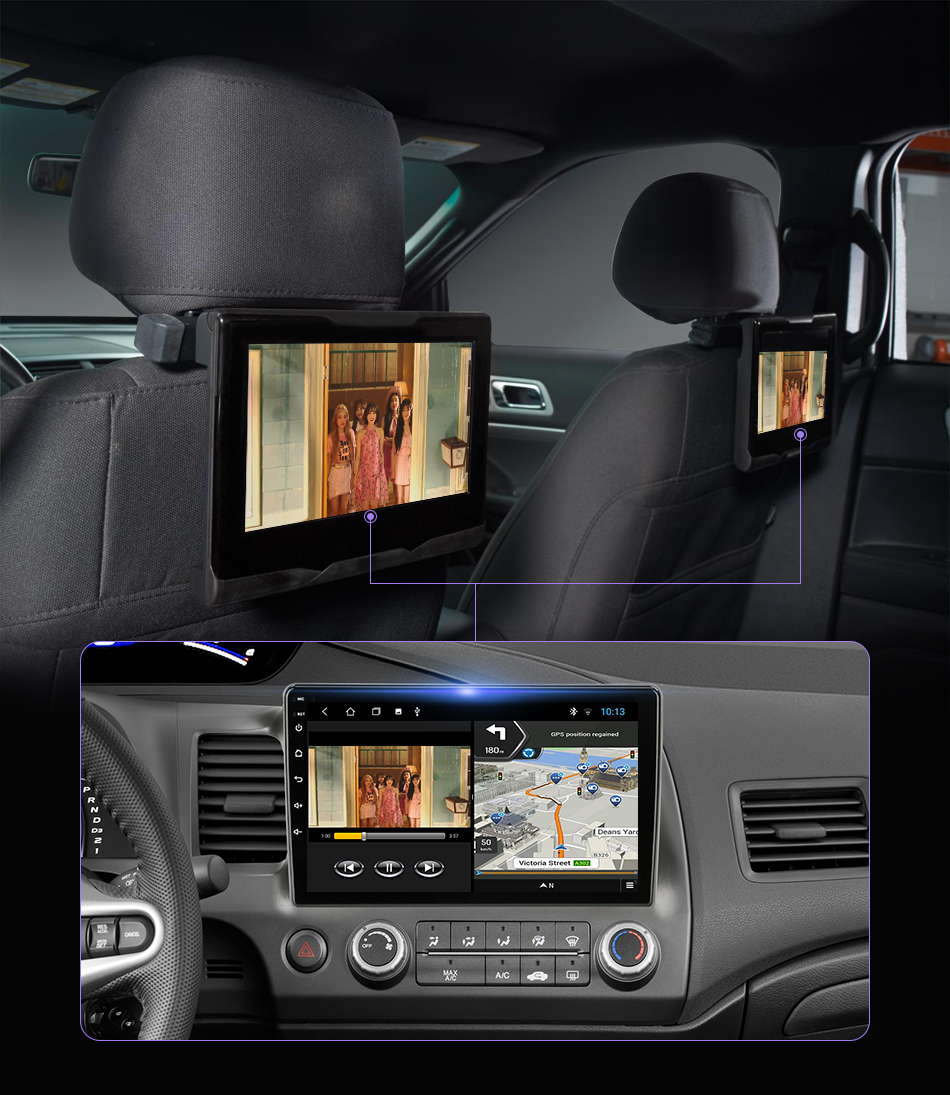 The latest andriod 9.0 4 core system, supporting 1GB RAM + 16GB ROM and 2GB RAM + 32GB ROM optional, we will continue to launch more powerful machines, please pay attention to our shop Receive notifications for new products).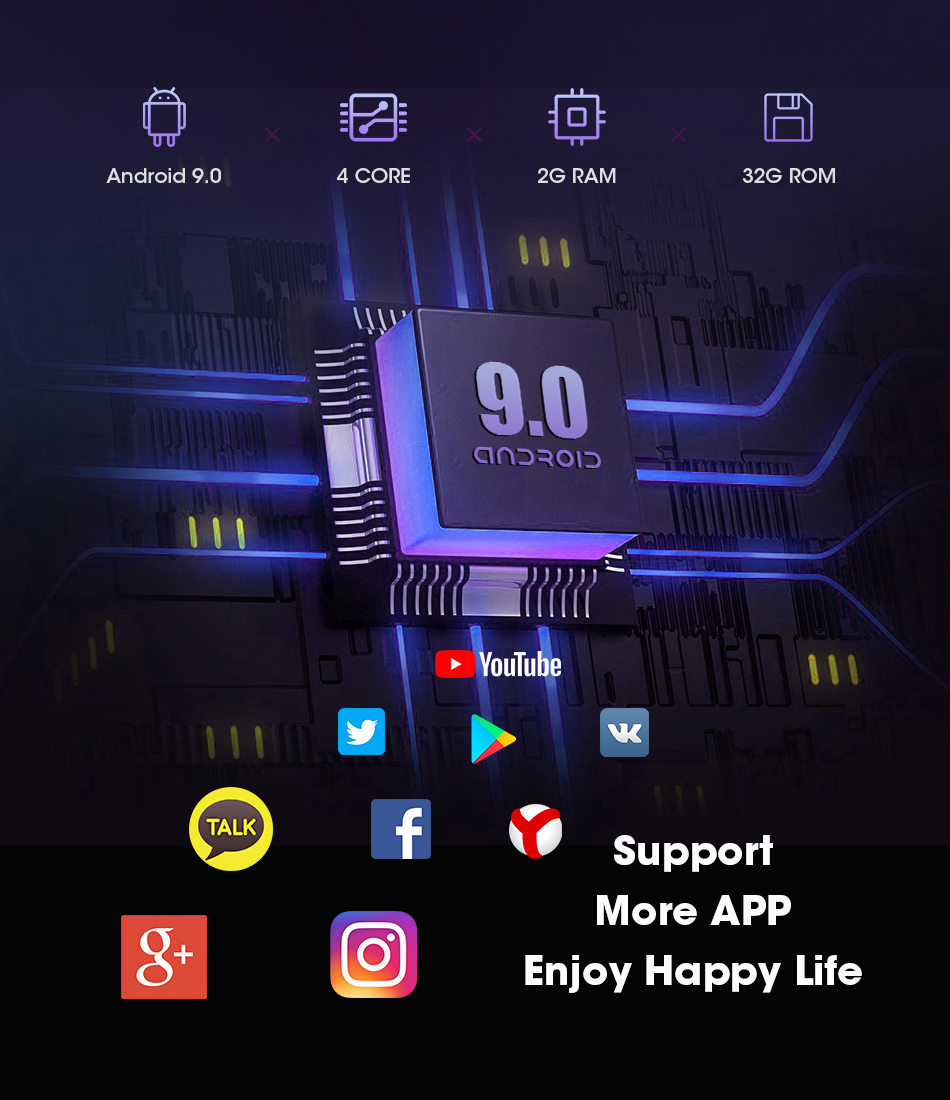 The default built-in adjustment is 12EQ (up to 32EQ), and the sound surround can be set at the same time, allowing you to immerse yourself in the wonderful music.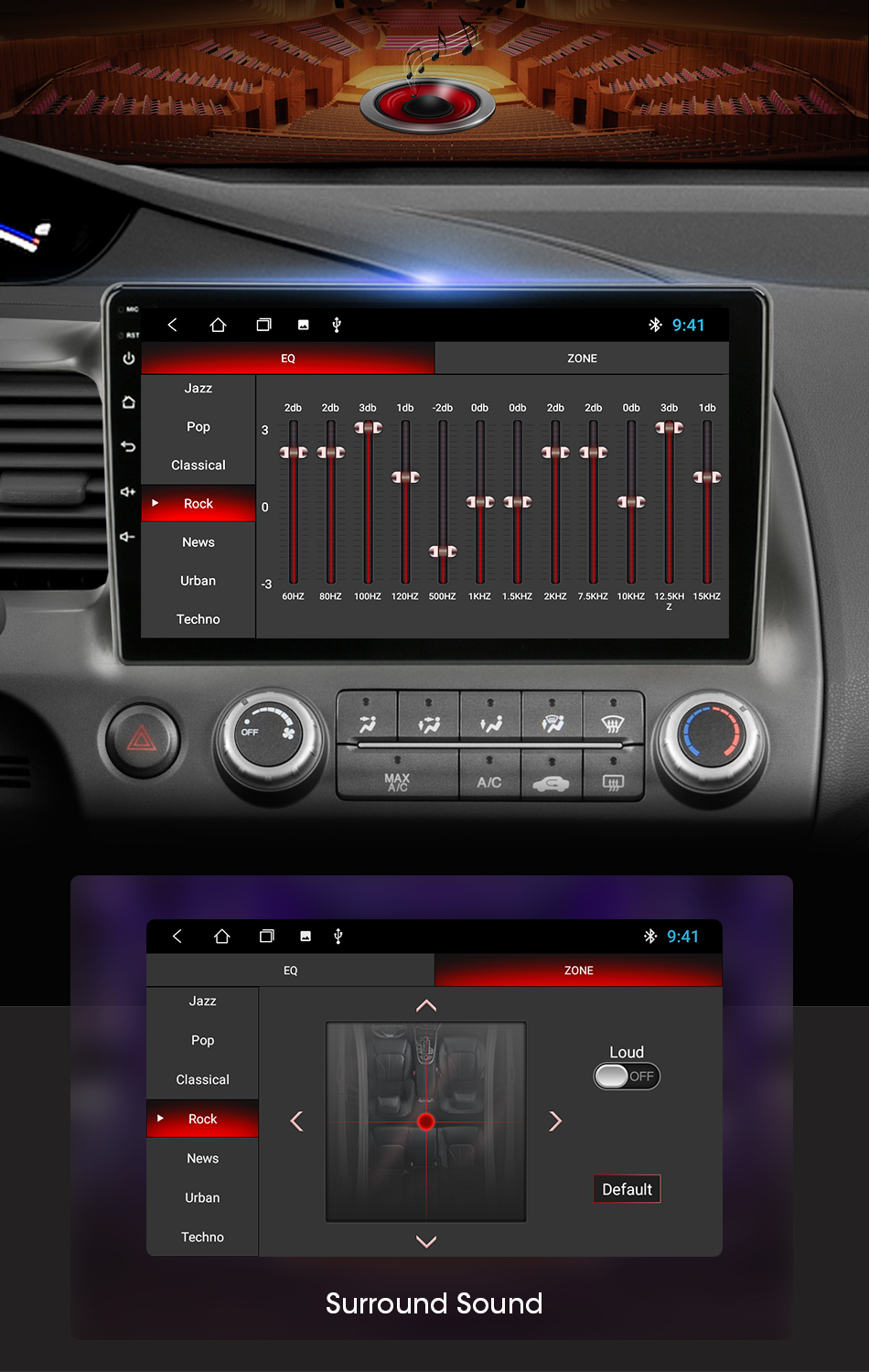 Supports almost all map apps. Before sending your favorite products, we will install the latest offline map of your country for you, and the map will be updated at regular intervals. Of course, you can also choose to use online maps.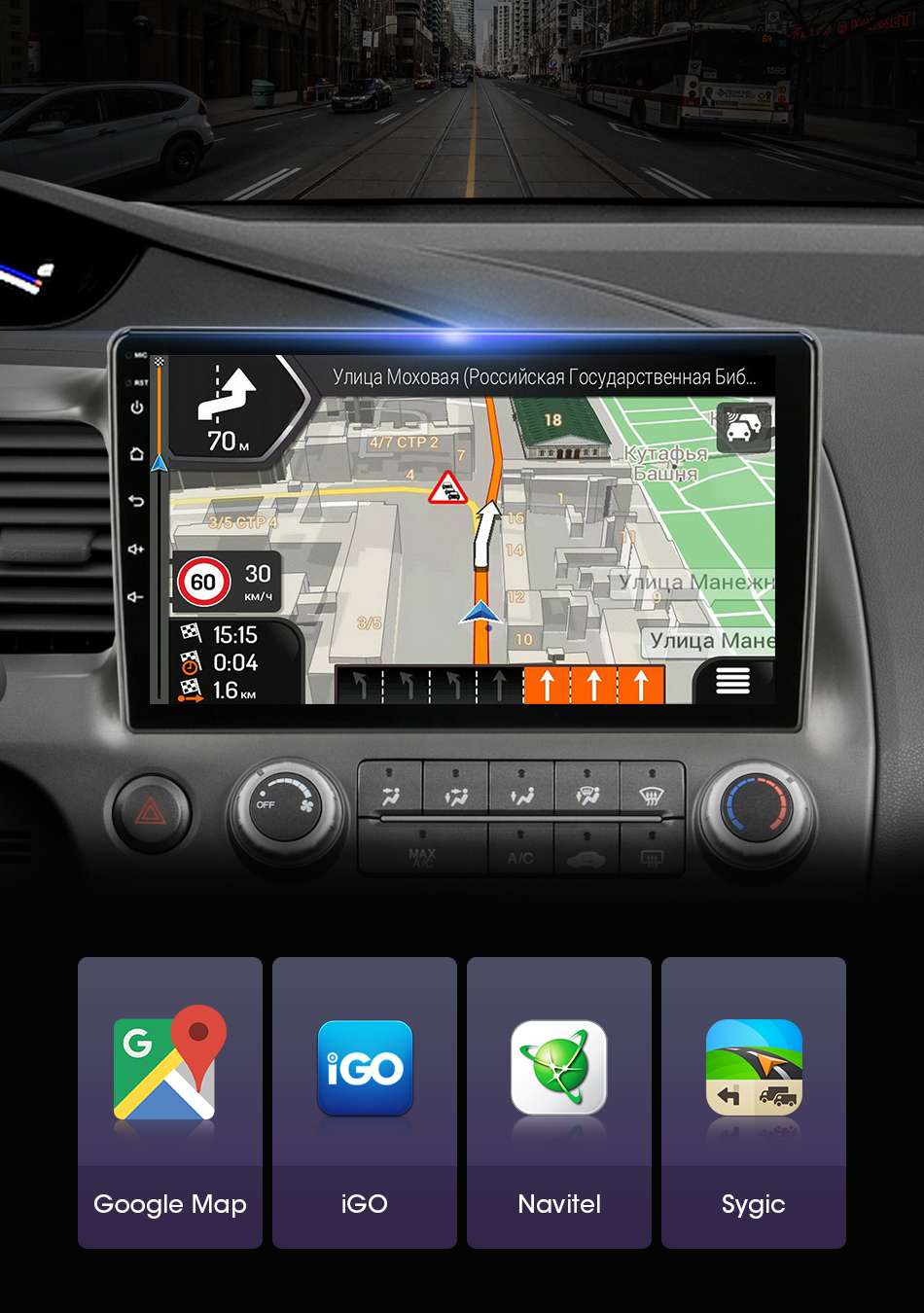 Supports reverse display. When the car is in the reverse mode, the radio will instantly switch to the screen at the back of the car to ensure your driving safety.
If you don't have the original camera, you can buy it by clicking "BUY NOW" in the picture below.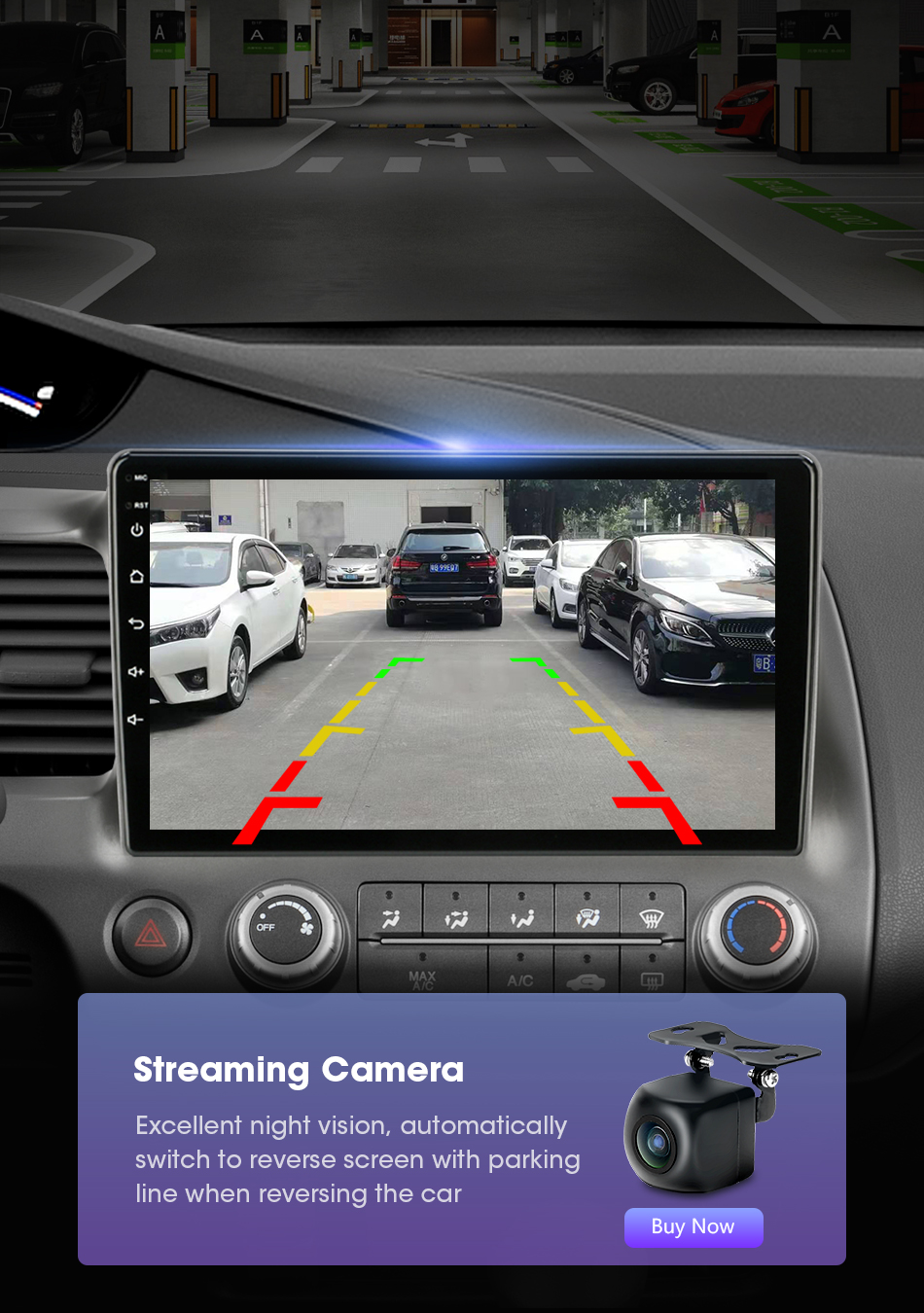 Supports connection to ADAS DVR. ADAS DVR has multiple built-in assistive driving technologies, inserting high-quality TF memory card to record every moment of your driving.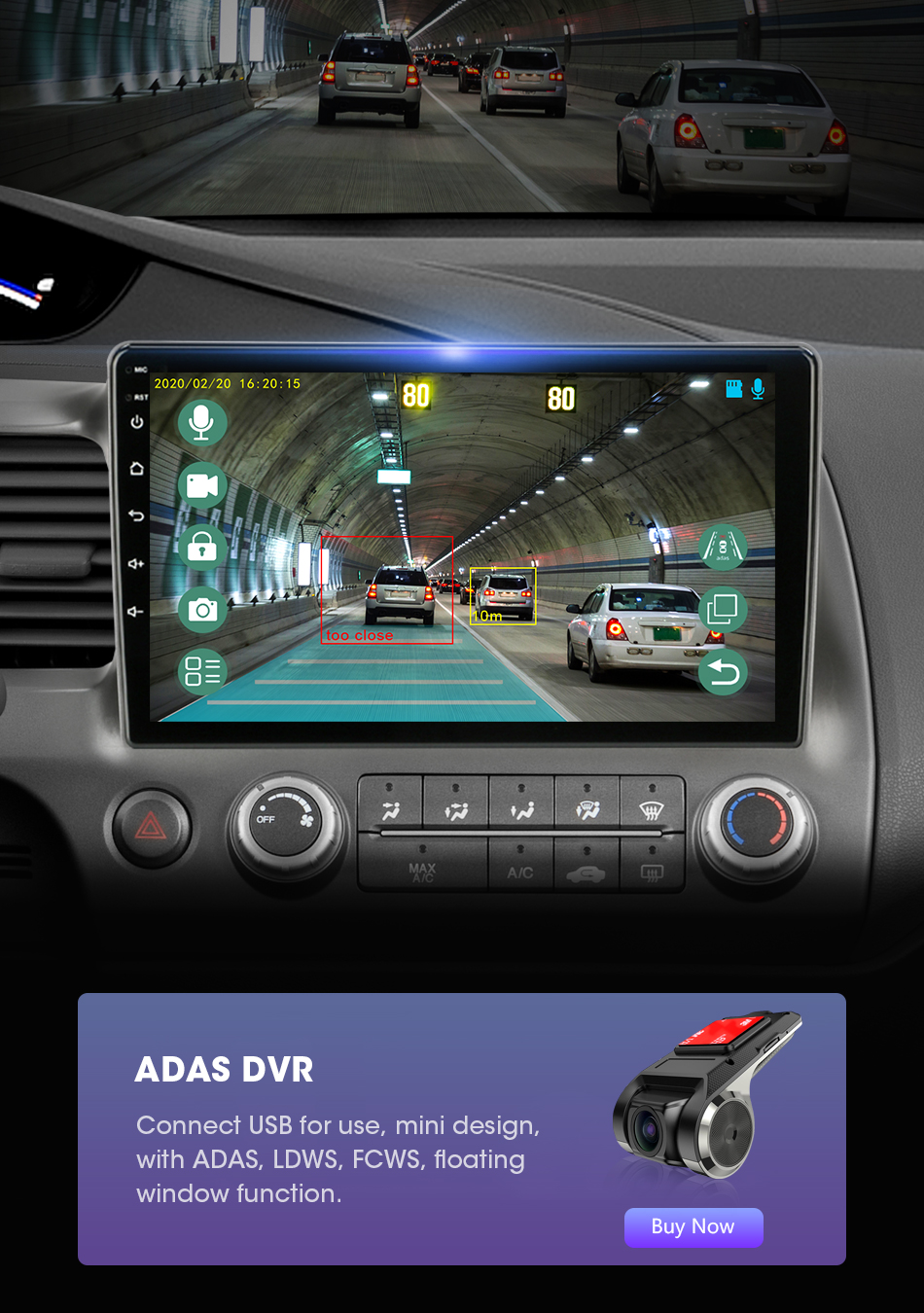 More and more national automobile manufacturing standards require that vehicles must be equipped with tire pressure alarm devices. The importance of tire pressure alarm devices can be seen. Click on the picture below to buy a tire pressure alarm device, connect a radio, and feedback your tire status in real time.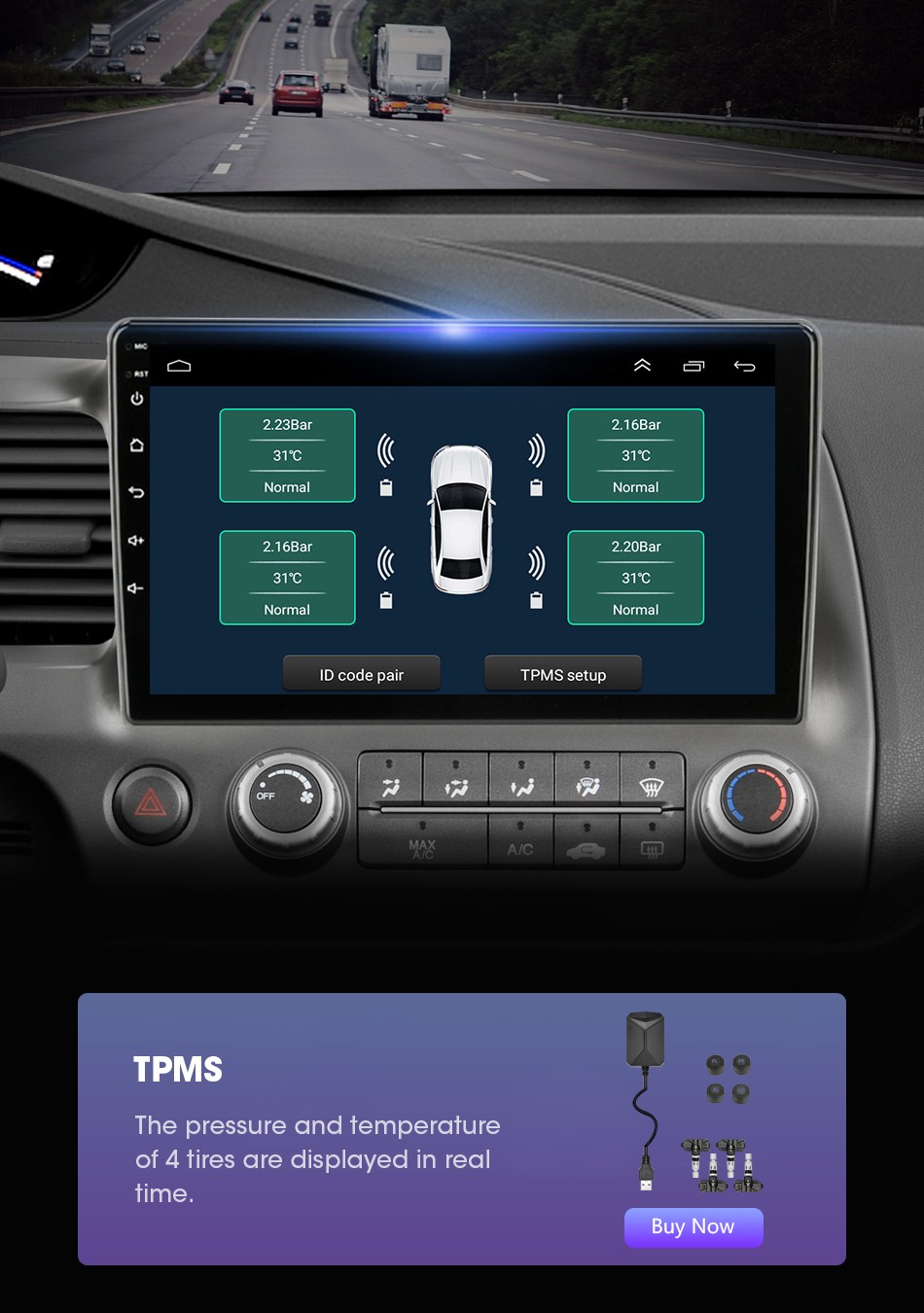 Support Bluetooth connection, dial Bluetooth phone, built-in microphone of the radio, even if the surrounding environment is noisy, the radio supports external microphone connection, which can still guarantee your call quality.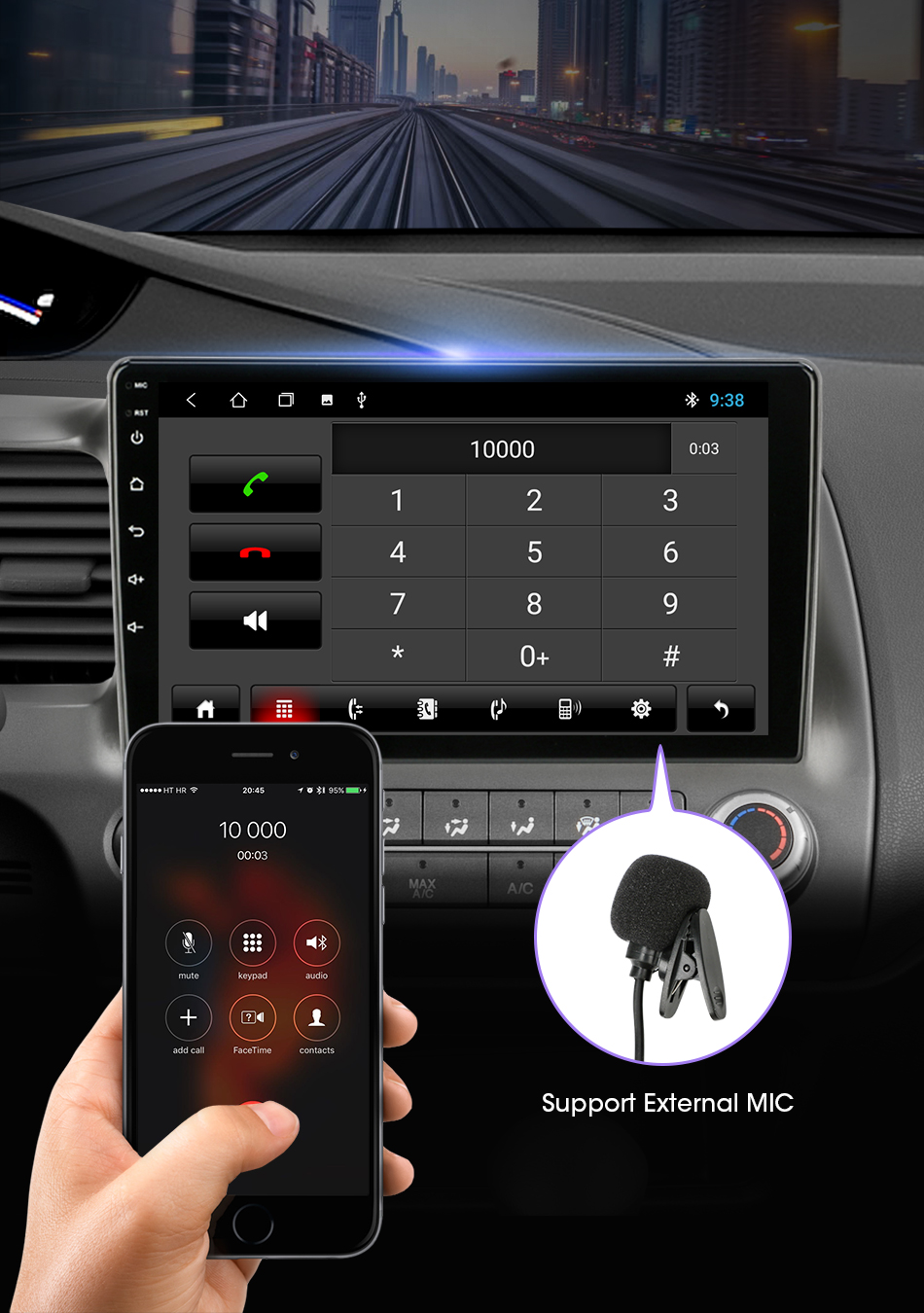 Support the steering wheel control of the original car. For the first use of the version without canbus, manual key learning is required. The version with canbus can be used after checking and connecting canbus.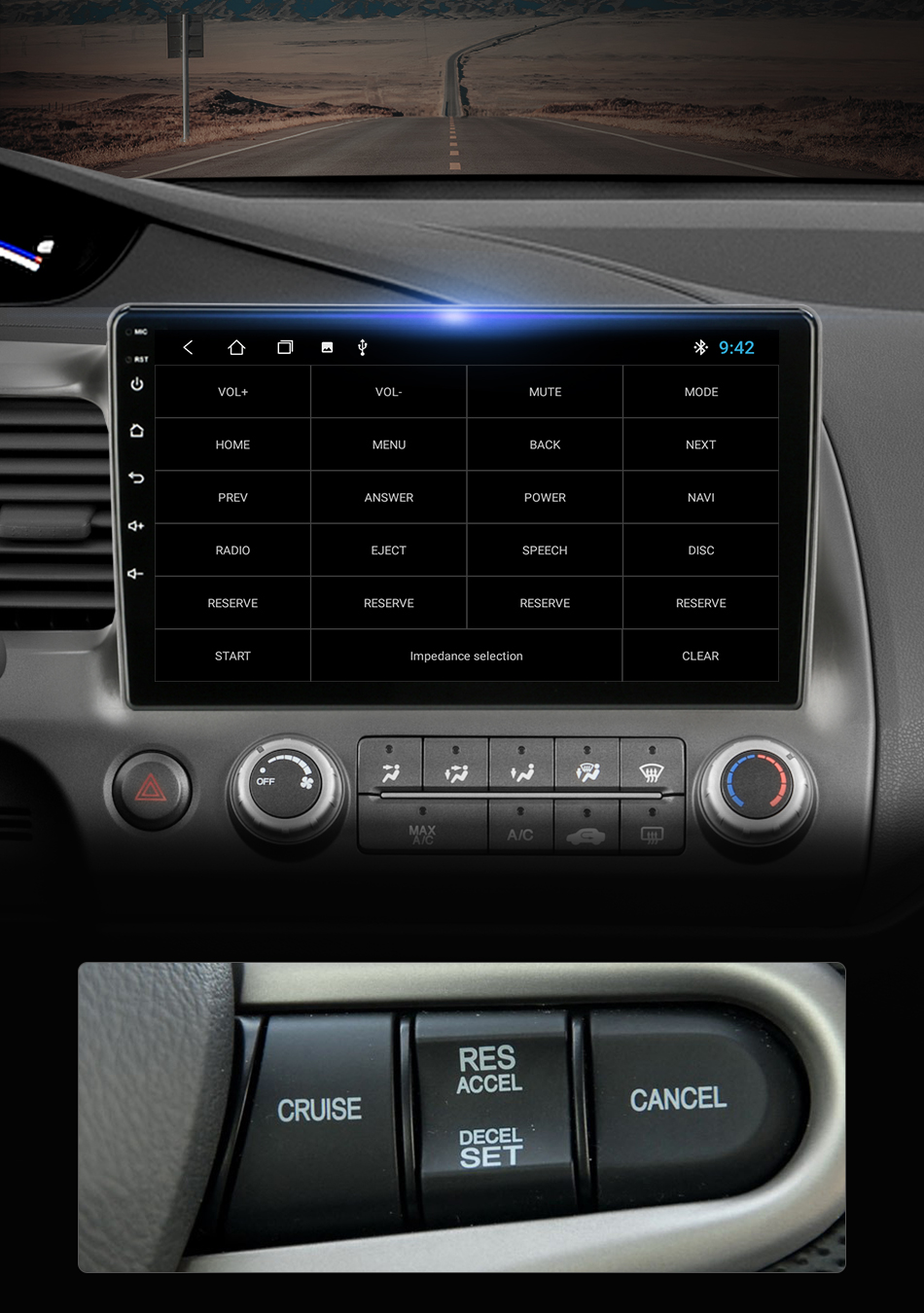 As a radio, the built-in powerful and stable radio supports built-in amplifier chips for favorite channels.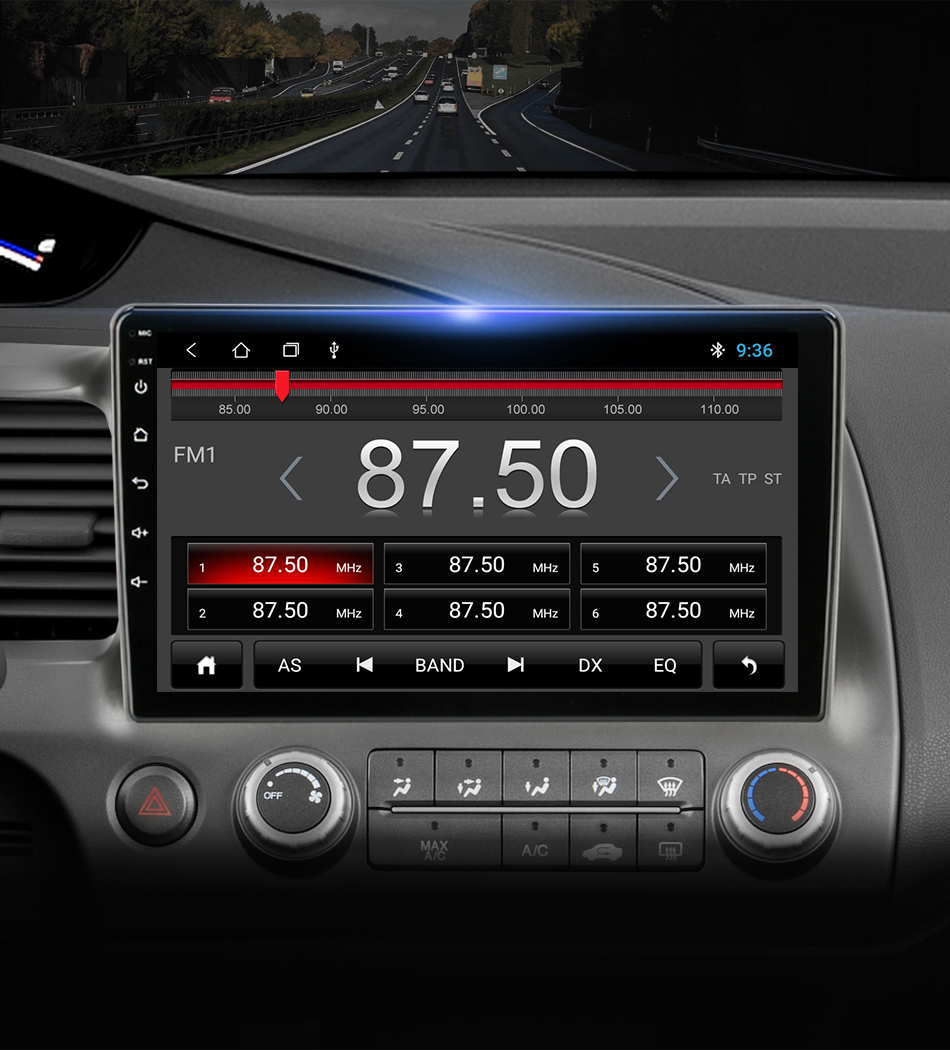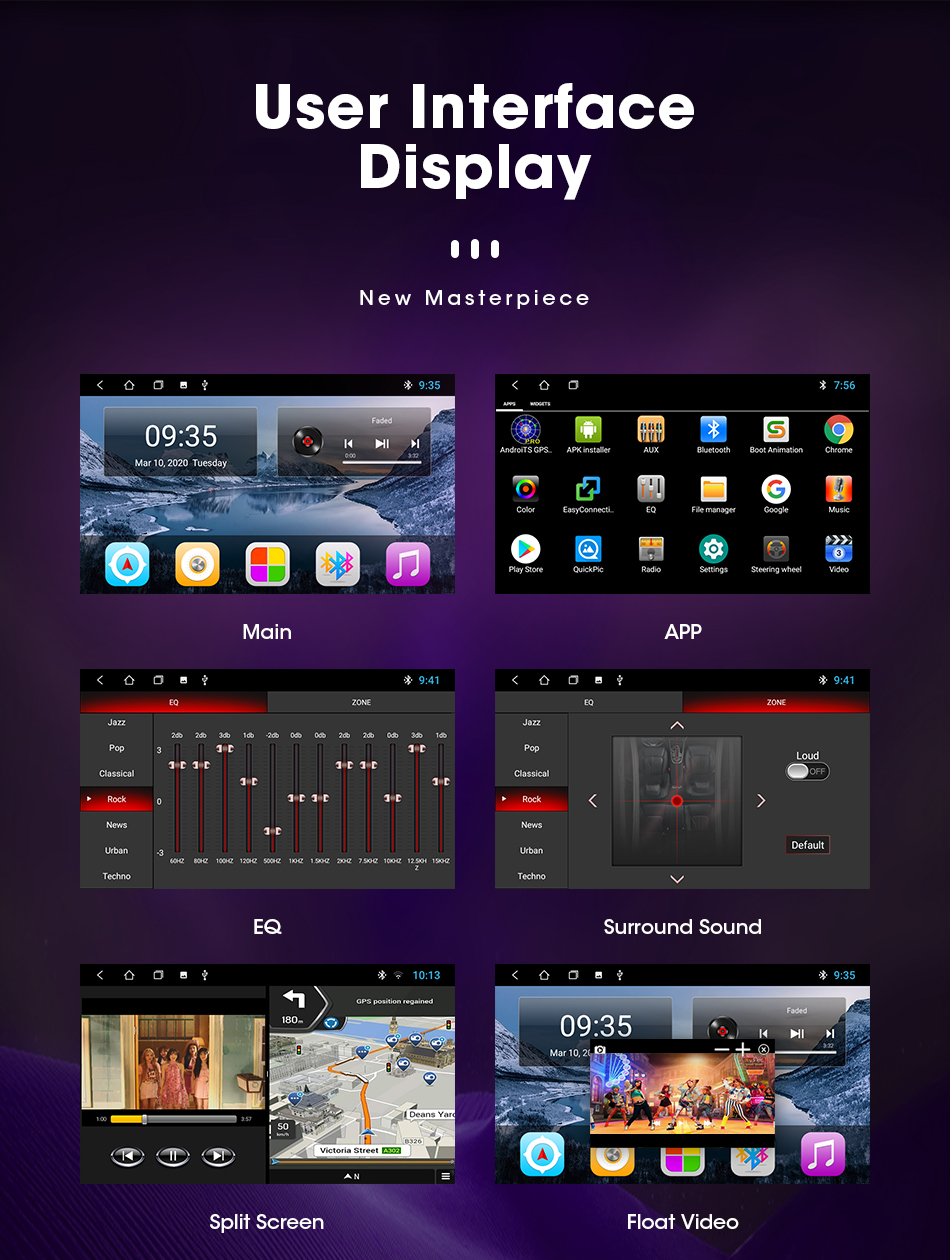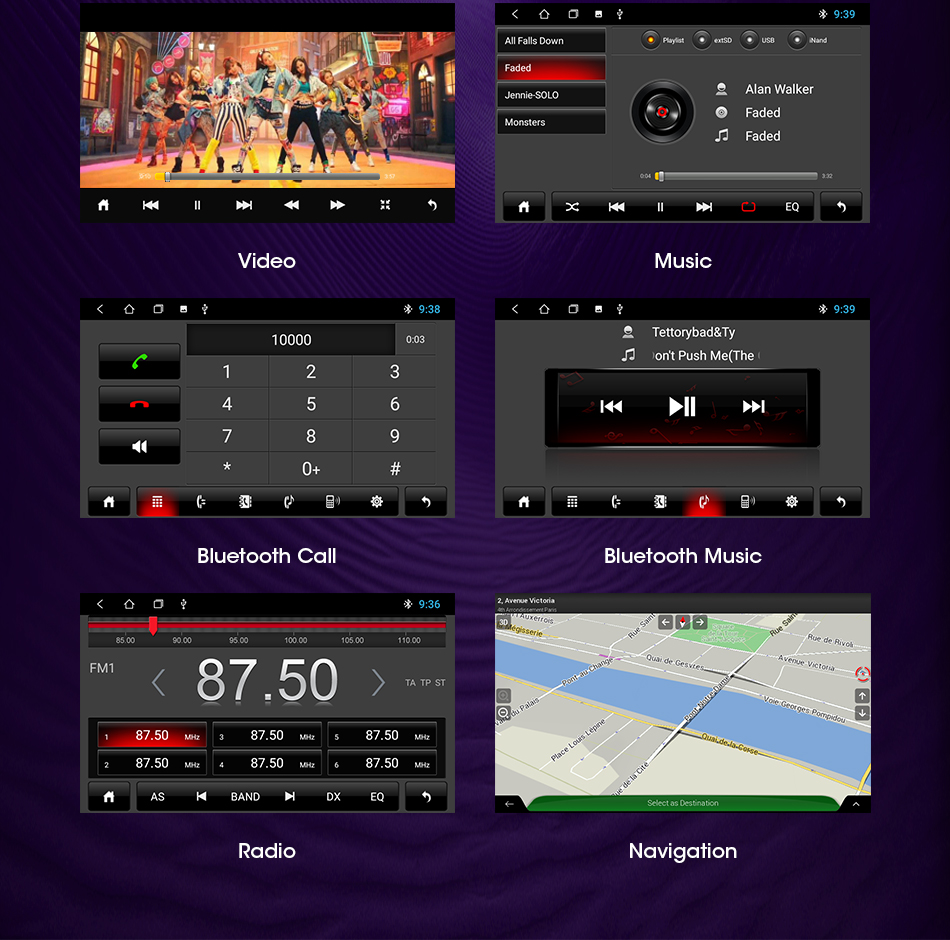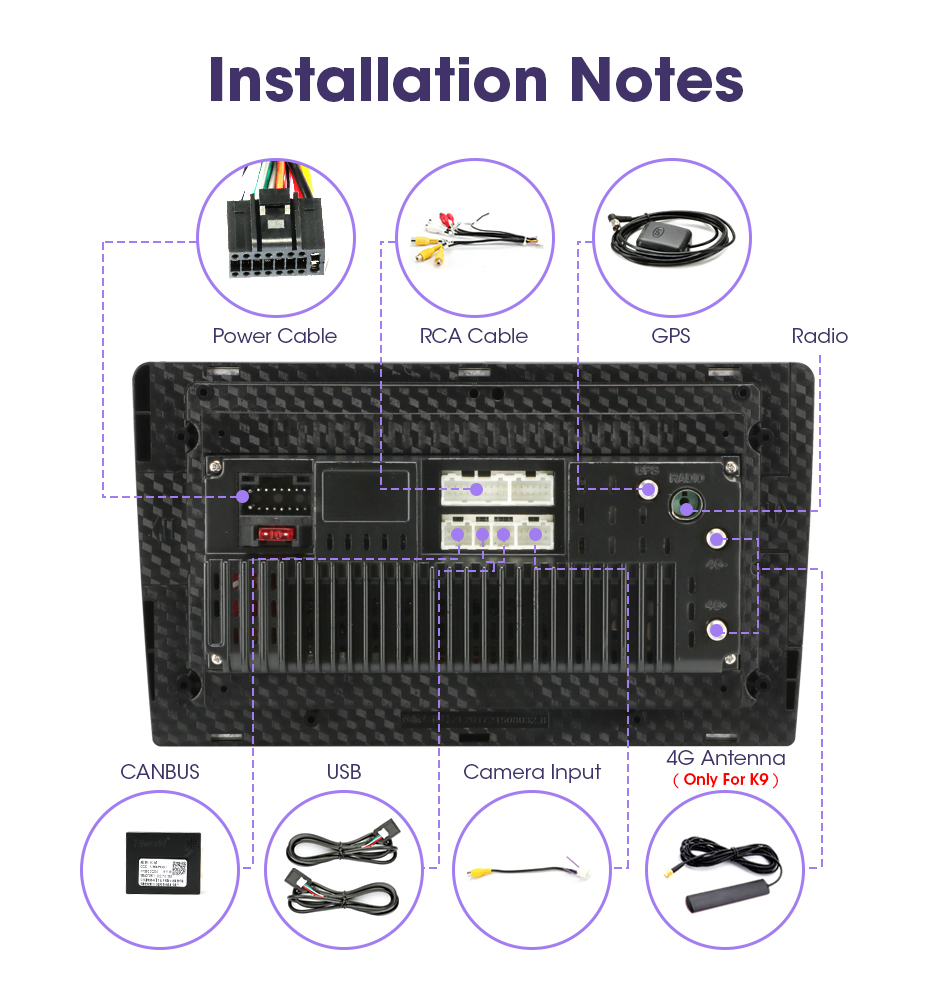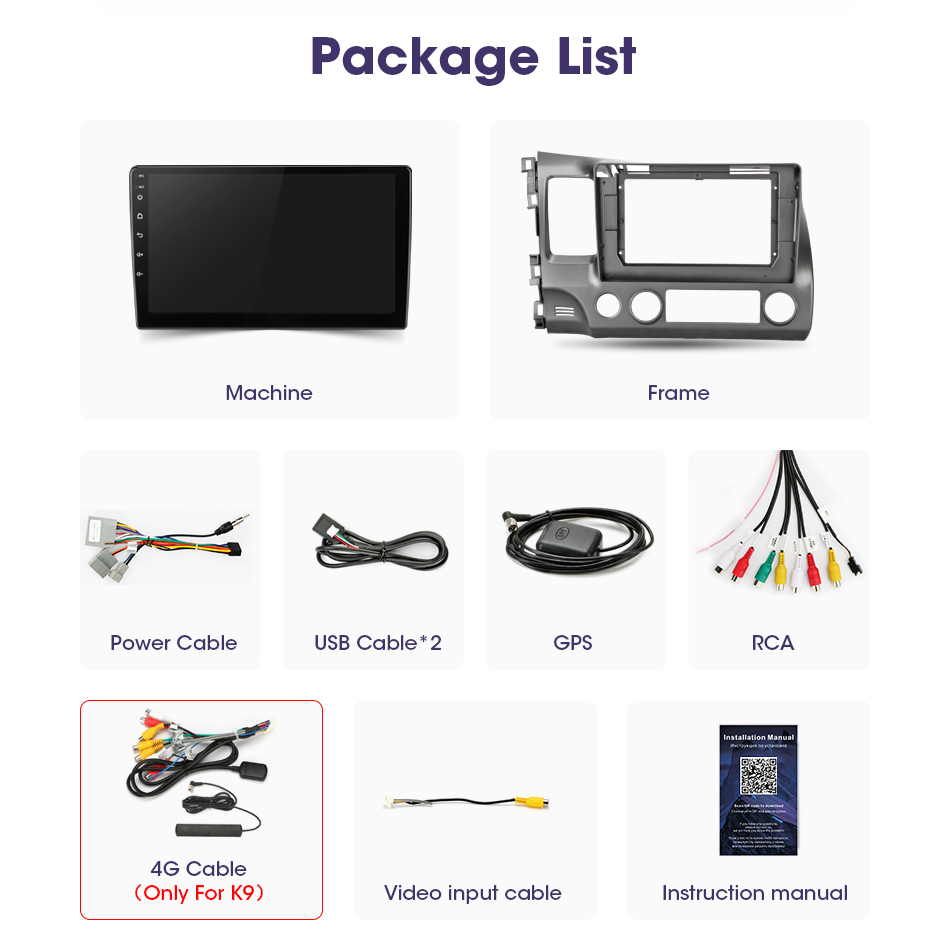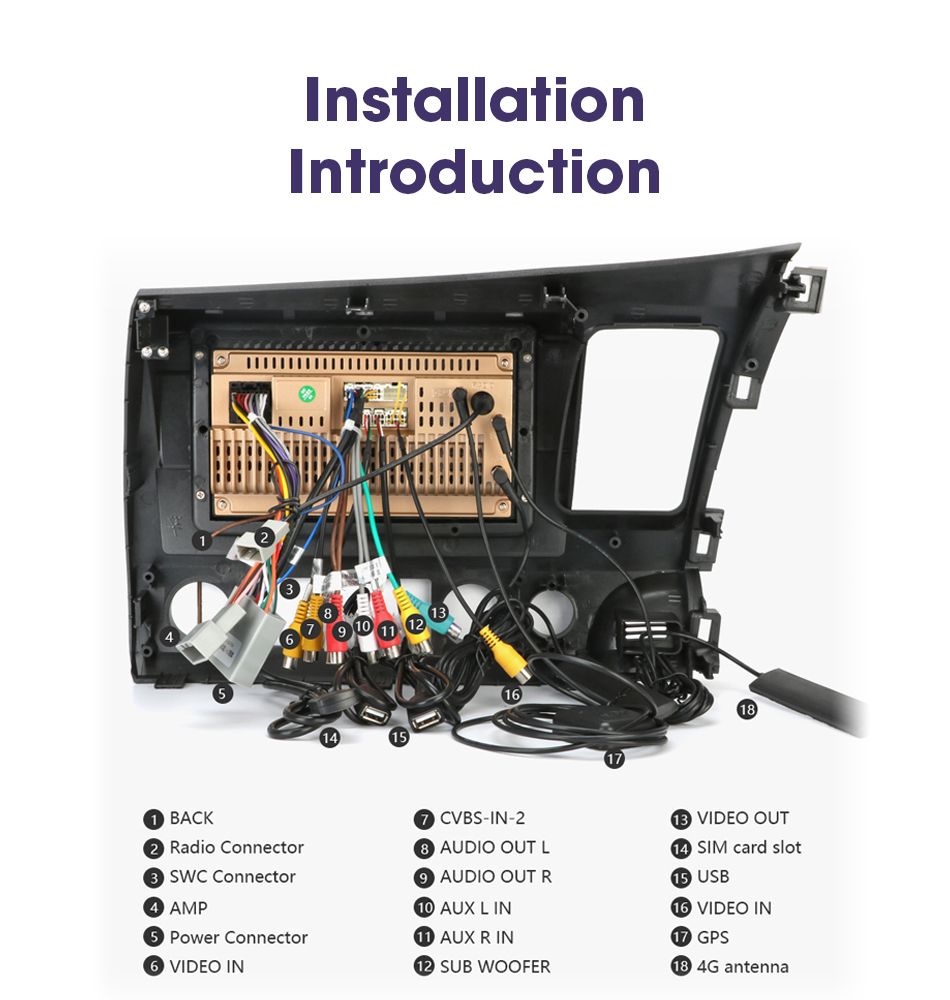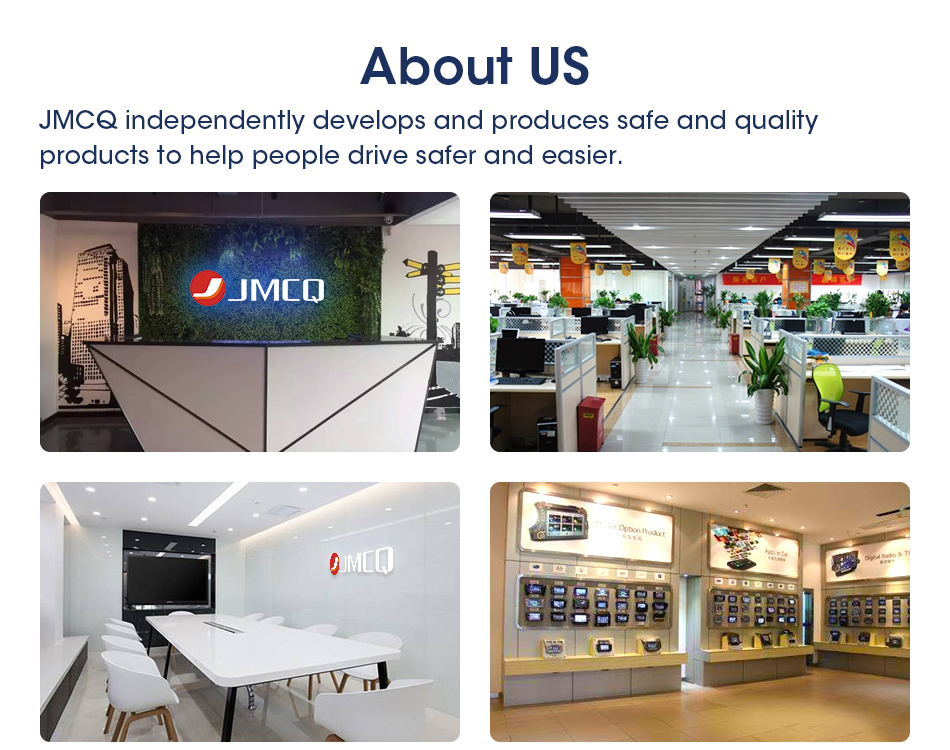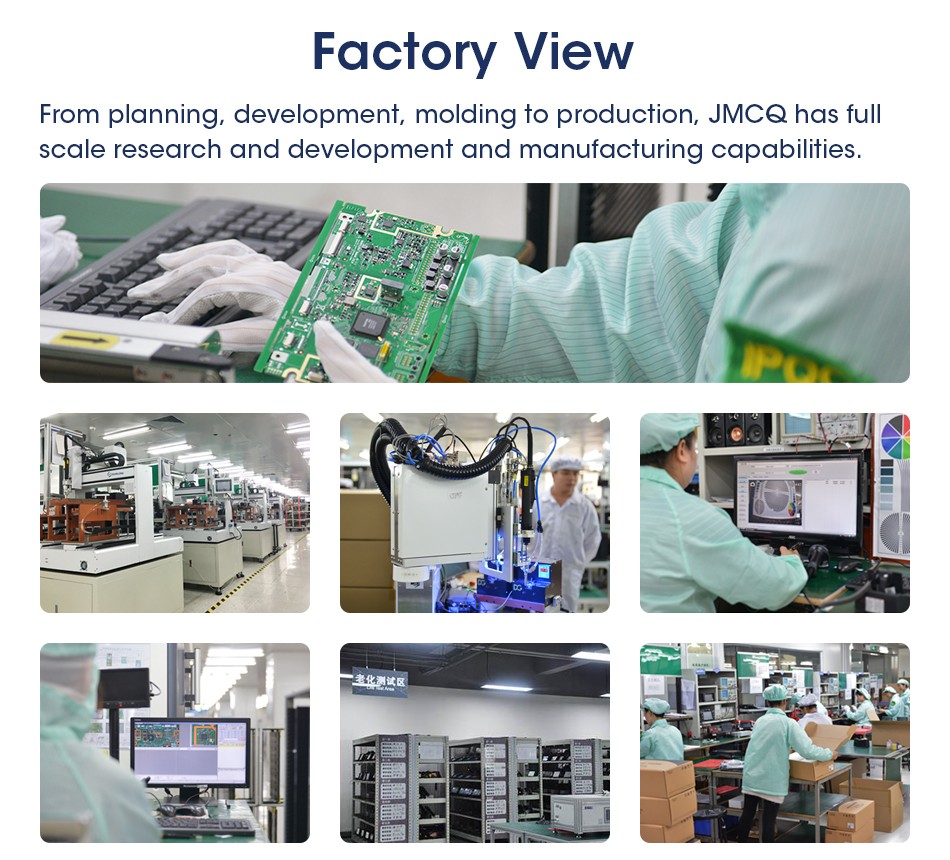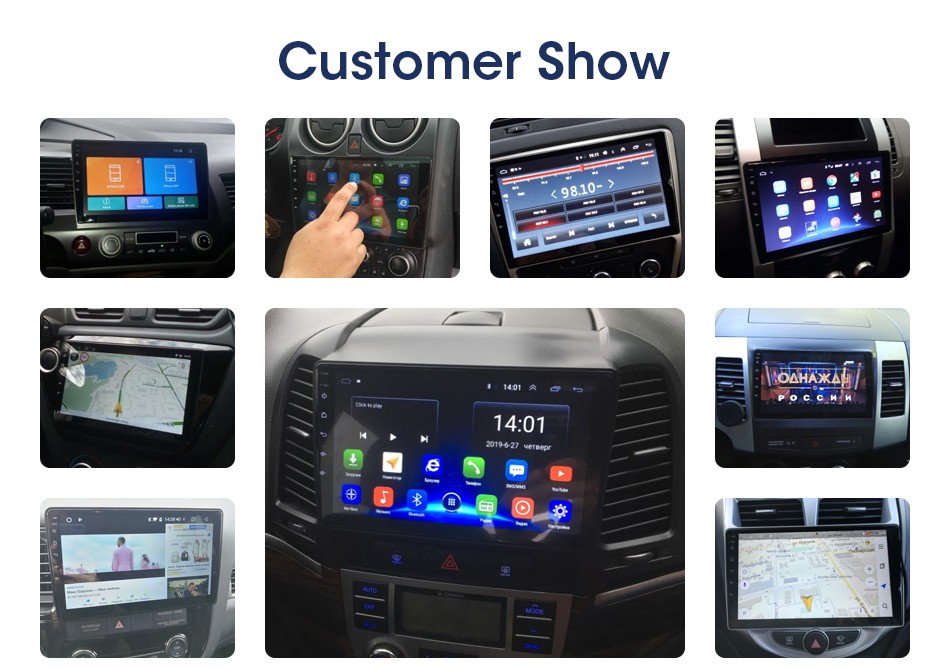 ---
★ Is it suitable for your car? :



Whether it is suitable or not cannot be determined solely by the model and year of the car. It needs to be judged according to the model, year and installation location
1. Check the corresponding model and year of the product and car
2. Compare the installation position of the product with the car that needs to be upgraded
3. Check if the product's power cable interface is suitable for your car (note: not all interfaces of the original car need to be connected)
4. If you still can't judge, please send us the original car radio installation location (front) picture and the original radio back interface picture to us



>>365 days warranty + installation instructions + online guidance



★We are constantly striving to make the innovative hardware and software of the car multimedia player radio provide you with a personalized and high-quality experience. As support to give us five-star feedback and share photos after receiving the package, we will extend the warranty period by 6 months.



★We provide free firmware, software and GPS navigation map updates.



★If the product has quality problems within 1 year after confirming the receipt, we will directly replace the new machine for you. However, please contact us first to resolve after-sales issues. This warranty does not apply to damage caused by accident, abuse, misuse or modification of the product.


After submitting the order, we need to connect the product to a power test, then load a free map, test the performance, and then use a multi-layer anti-collision box and a bubble shock bag to ensure that the product is safely delivered to your hands. Delivery takes 1-3 business days after purchase, please be patient.



About after sales:

If there is a problem after receiving the goods, please give us a chance to serve you. Please do not open the dispute. The dispute is handled by the platform. The platform is not professional and cannot solve your fundamental problems. Please trust us. Please contact us as soon as possible Via AliExpress, we will get back to you within 12 hours due to jet lag
Warm and important tips:



1,If you want to use some apps such as Yandex map or other frequent updates that take up a lot of memory, it is recommended to buy a running memory version of more than 2GB to get a smoother experience, which is why some old Android phones are getting stuck



2,JMCQ T9 uses the online CANBUS resource library. After connecting and completing the CANBUS option, the CANBUS information is updated online through the 4G network or WiFi, thereby solving and avoiding the situation that many models and CANBUS are not compatible. At the same time, we will set the CANBUS option according to the model before sending , Real plug and play
(The function of CANBUS: make the original functions of the car available on the new radio, such as the car 's original rear-view camera, steering wheel control, climate adjustment power amplifier, etc.)



FAQ

Q: What can I do for faster shipping?

A: Please make sure you leave correct (mobile) phone number/Post code and delivery address in AliExpress order system, any worng information will delay order shipping, customs clearance and local delivery time. After placing order, please send us your car detailed information to check to avoid mistake. Please pay attention to the message sending from AliExpress and reply ASAP for faster shipping.



Q: Does 4G version support my local SIM card?

A: It supports the following bands

2G: GSM900(Band 8); DCS1800(Band 3); CDMA(BandC0)

3G: DT-SCDMA(Band 34); WCDMA(Band 1); CDMA2000(BandC0)

4G: DT-LTE(Band 39/40/41); FDD-LTE(Band 3); FDD-LTE(Band 3); TD-LTE (Band 40/41)



Q: Why don't you have a paper user manual?

A: We stopped the traditional printed user manual for many years, because there is no way to show videos and a lot of photos by paper manuals. The update of the product is very fast too. We will leave you the download link of installation and operation guide in aliexpress message system after shipping out the order. Please check all files carefully when you get the parcel. There is warranty card with technical support contact in the package. If you need help, please contact us at any time.



Q: How can I get technical support? Can I update the android system?

A: lease contact the technical support on warranty card or leave message in Aliexpress system. We promise to reply you within 24 hours due to time zone difference. We will update the system to fix some bugs from time to time, please click the icon "FOLLOW" to follow JMCQ official store to receive the update information automatically.



Q: Will you preload navigation map for me? How can I update it?

A: We will preload Navitel map according to the destination country for test(We will update the map data every July, if you need please contact us for download link). You can download and install your local navigation APP from google play store.If it can't work, please contact us.



Q: Need I pay import tax?

A: Import duties, VAT taxes and other local charges are not included in the item price or shipping charges. These charges are the buyer's responsibility. Please visit the rule of Aliexpress //activities.aliexpress.com/adcms/help-aliexpress-com/customs_related_issues.php Please check with your country's customs website about import policy and if there is any additional cost prior to buying. If the buyers have better method to help clear the customs, please contact us. For customers from EU, you can choose seller's shipping method for tax prepaid service.



Q: What is the benefit for 5 star Feedback?

A: After you get the product and everything is OK, please confirm the order and give us all 5 rating. If you can share the photos on aliexpress, we will extend your warranty to 2 years. If you have any problem or suggestion or need any help, please contact us by message or email, we promise to reply you within 24 hours. Our service is life time. Please contact us before leaving any negative and neutral feedback or open any dispute, only communication can solve your problems.We are always standby to improve.