1.Untrackable,Buyer protection 60days(Brazil 90days),please patient waiting .
2.About support car model,we can not promise this product can support all car,if it do not support your car.we can not refund to you,if you do not agree it,please do not place order,thank you.
3.About your order if you have any problem ,please feel free to contact us first,we will try best to solve for you .DO NOT Leave Negative feedback,it can not be revised after you sumbit!
4.It just supports the software in CD .
5.Please close anti-virus programmer when install software,take easy,software in CD are safe to your computer.
6.When first connect to Car's ECU,it will flash the LED,and after standby the led will turn off automically ,this is low power design.And when you star run program on your android phone,the device LED will star flash again into working
7.Item CD will maybe easily broken in shipping way,so if CD can not readable,please DO CONTACT us to send you download link,

DO NOT DISPUTE!
8.Using tip:Please Do not Disassemble Apart the Body Yourself,Or We Wont be Responsible for Repair.
About Software,there is no included CD with package.So when u receive the item,please Scan the 2D code of User Guide and download software directlyfrom your Android or IOS phone.

1.Communication: Bluetooth dual-mode (2.0 / 4.0)
2.Software Platform: Support Android / IOS
3.Working voltage: 9V ~ 16V
4.Support Model: OBDII protocols vehicles
5.Supports OBD-II protocols:
SAE J1850 PWM (41.6 Kbaud)
SAE J1850 VPW (10.4 Kbaud)
ISO 9141-2 (5 baud init, 10.4 Kbaud)
ISO14230-4 KWP (5 baud init, 10.4 Kbaud)
ISO14230-4 KWP (fast init, 10.4 Kbaud)
ISO15765-4 CAN (11bit ID, 500 Kbaud)
ISO15765-4 CAN (29bit ID, 500 Kbaud)
ISO15765-4 CAN (11bit ID, 250 Kbaud)
ISO15765-4 CAN (29bit ID, 250 Kbaud)
Window: ScanMaster-ELM, ScanTool.net, PCMSCAN
Android: Torque_Pro, DashCommand, EOBD2
7.Software supported platform: Windows XP, Windows 7/8, Android, Symbian, and so on.

1.Register an account by e-mail.
2.Select correct vehicle information.
3.Search inyerlinking Viecar adapter.
Clik the right top icon to enter software
setup to se up vehicle information,driving early warning (water temperature,overspeed,fatigue driving),driving route upload,combination and unit.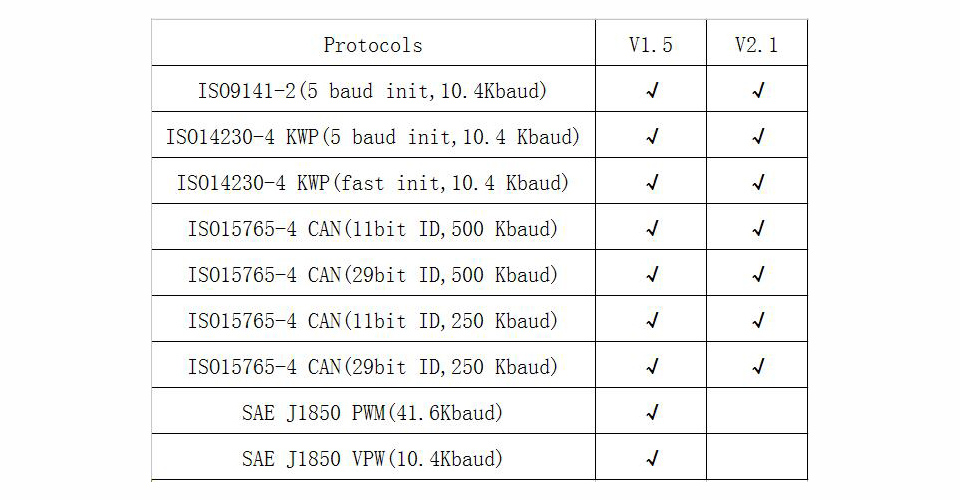 Newest Viecar 4.0 OBD2 Bluetooth Scanner for Multi-brands with Car HUD Display Function
Top 6 Reasons to Get Viecar 4.0:
1.Viecar 4.0 is a multifunctional and Comprehensive car electronic products with smallest body and more chips in the world.
2.Viecar 4.0 was designed by Bluetooth 4.0 dual moudle which could support IOS and Android Device.
3.Viecar 4.0 transfers data rapidly, with low power dissipation advantage and saves power.
4.Viecar 4.0 including fuel consumption analyze and assessment could save oil save money for us.
5.Viecar 4.0 also record driving behavior, analyze car information, suggest improvement to help us to correct our bad driving habits.
6.By connecting cars ECU and computer it realize 360 degree whole car testing could find out the fault code earlier to help us to deal with it in time.
Viecar 4.0 Specifications:
Means of communication: Bluetooth Dual (2.0/4.0)
Software platform: Android/ IOS
Supported OBD-II Protocol:
SAE J1850 PWM (41.6 Kbaud)
SAE J1850 VPW (10.4 Kbaud)
ISO 9141-2 (5 baud init, 10.4 Kbaud)
ISO14230-4 KWP (5 baud init, 10.4 Kbaud)
ISO14230-4 KWP (fast init, 10.4 Kbaud)
ISO15765-4 CAN (11bit ID, 500 Kbaud)
ISO15765-4 CAN (29bit ID, 500 Kbaud)
ISO15765-4 CAN (11bit ID, 250 Kbaud)
ISO15765-4 CAN (29bit ID, 250 Kbaud)
Window: ScanMaster-ELM, ScanTool.net, PCMSCAN
Android: Torque_Pro, DashCommand, EOBD2
1pc x Viecar 4.0 Obd2 Bluetooth Scanner Tool